orchid mantis L2-L4
Regular price
Sale price
$49.99
Unit price
per
Sale
Sold out
"Indonesian orchid mantis" (Hymenopus coronatus) L2-L4 unsexed nymphs produced by Marshall Arachnids. At this stage these mantids measure about ½-¾" in body length.
like most mantis species, they prefer flying prey and these nymphs are currently feasting readily on D. hydei fruit flies, and house flies. they will also eat extra small crickets.
choice to include the mantis's current enclosure (a modified MINI enclosure with moss mesh and substrate) for an additional $10.00. your mantis will be comfortable in this enclosure until about L5.
⟹ ⟹ SHIPS VIA EXPRESS SHIPPING OPTIONS ONLY ⟸ ⟸
---
please read our
care guide
 BEFORE purchasing this species.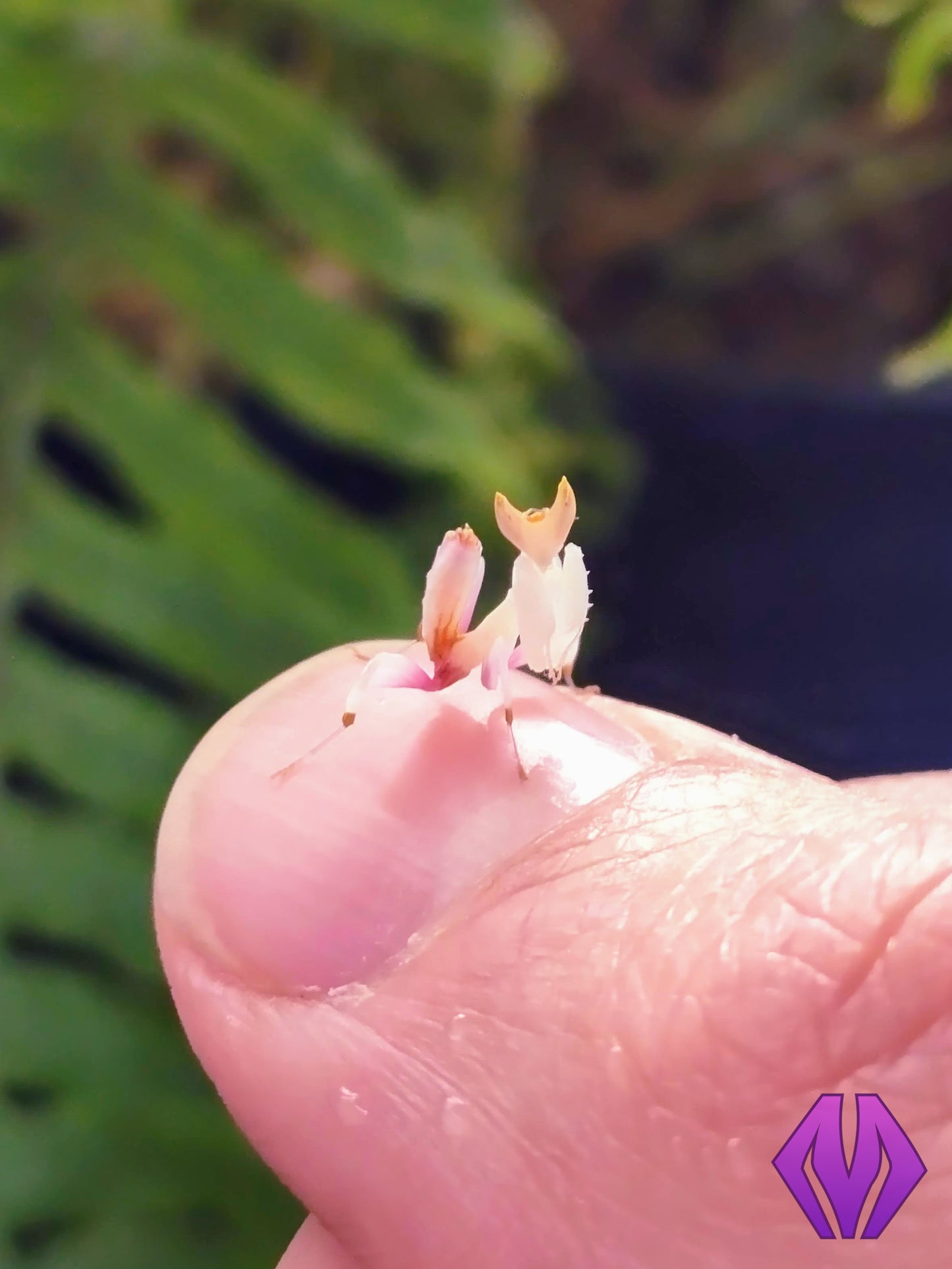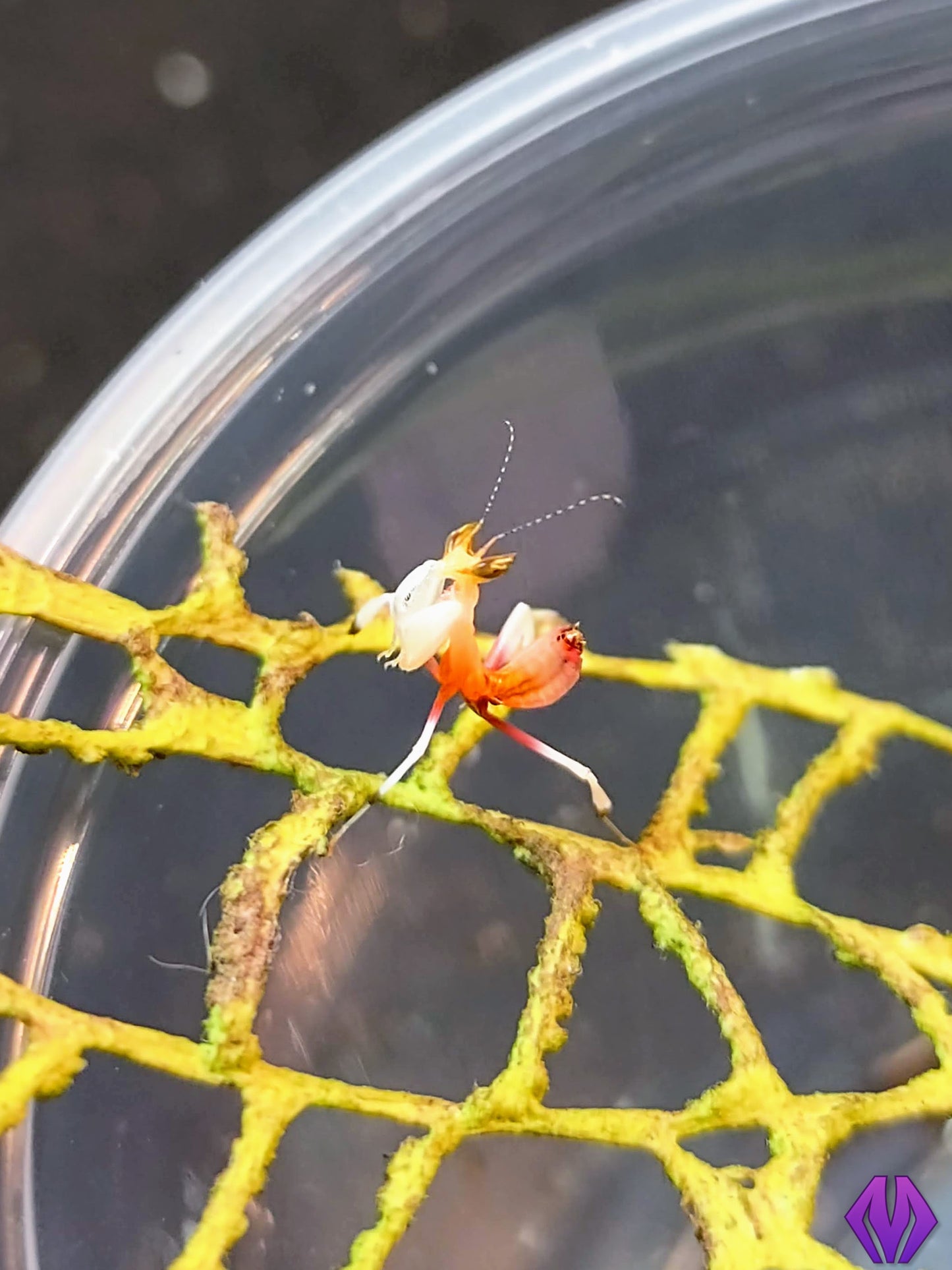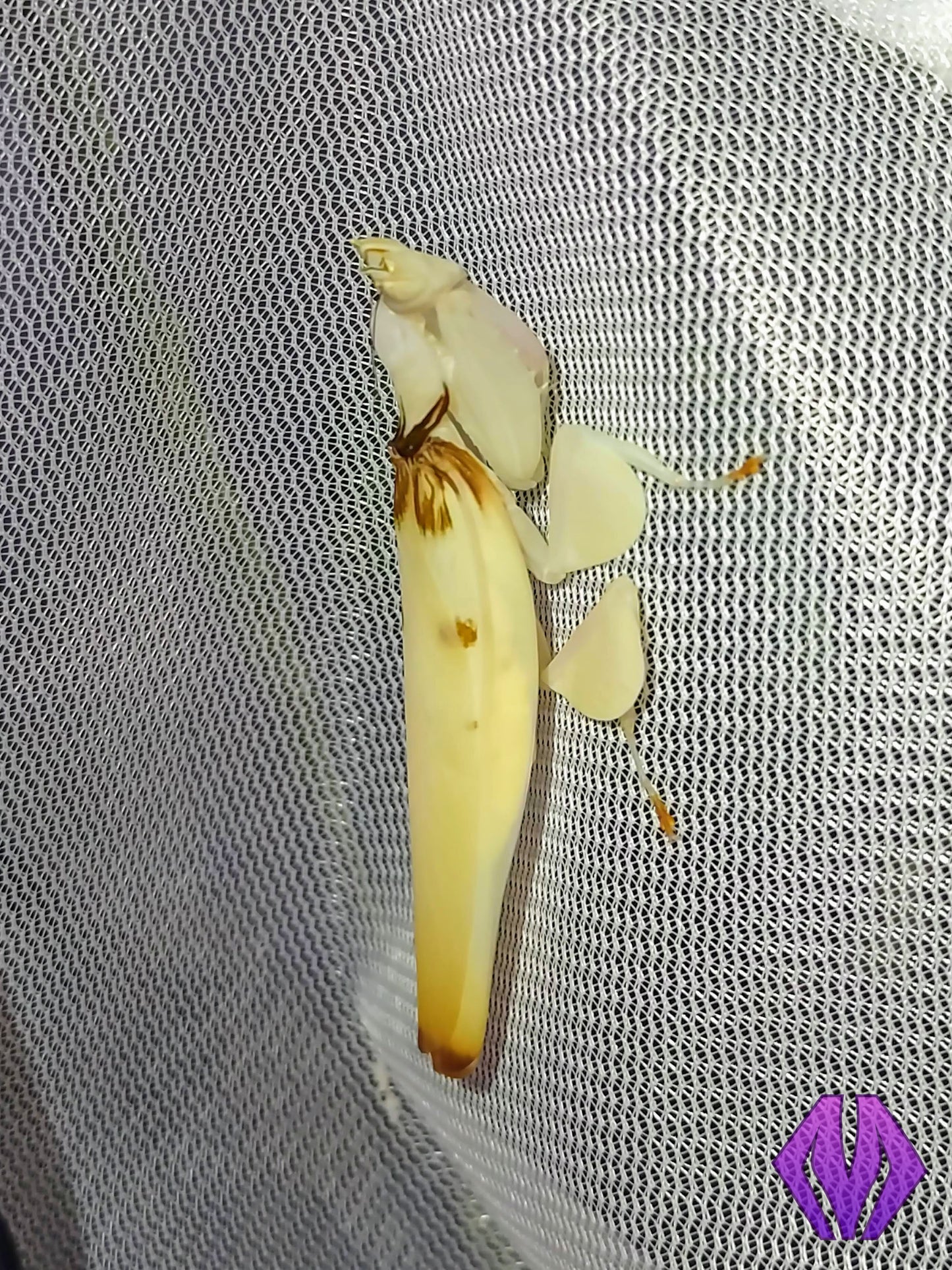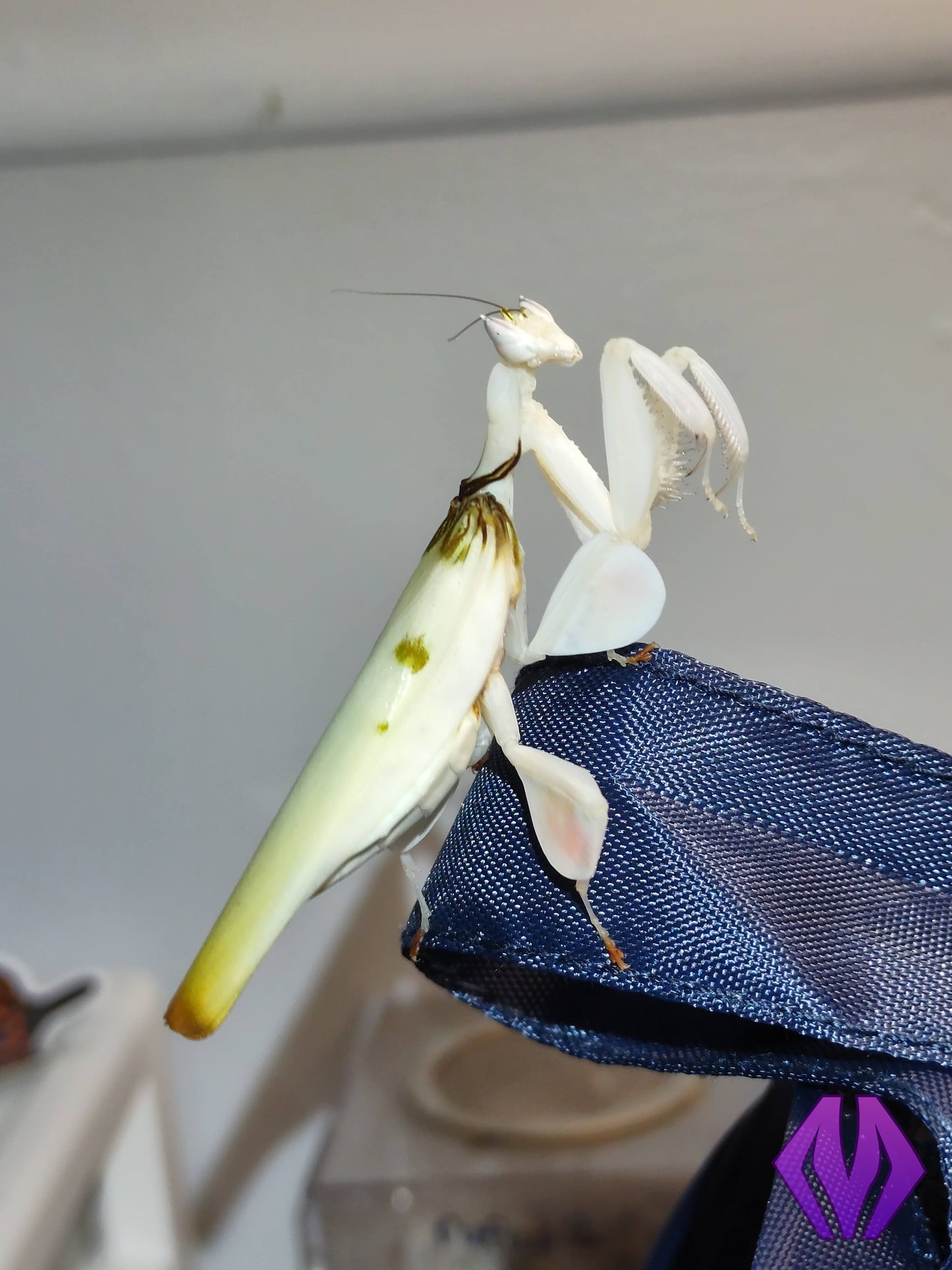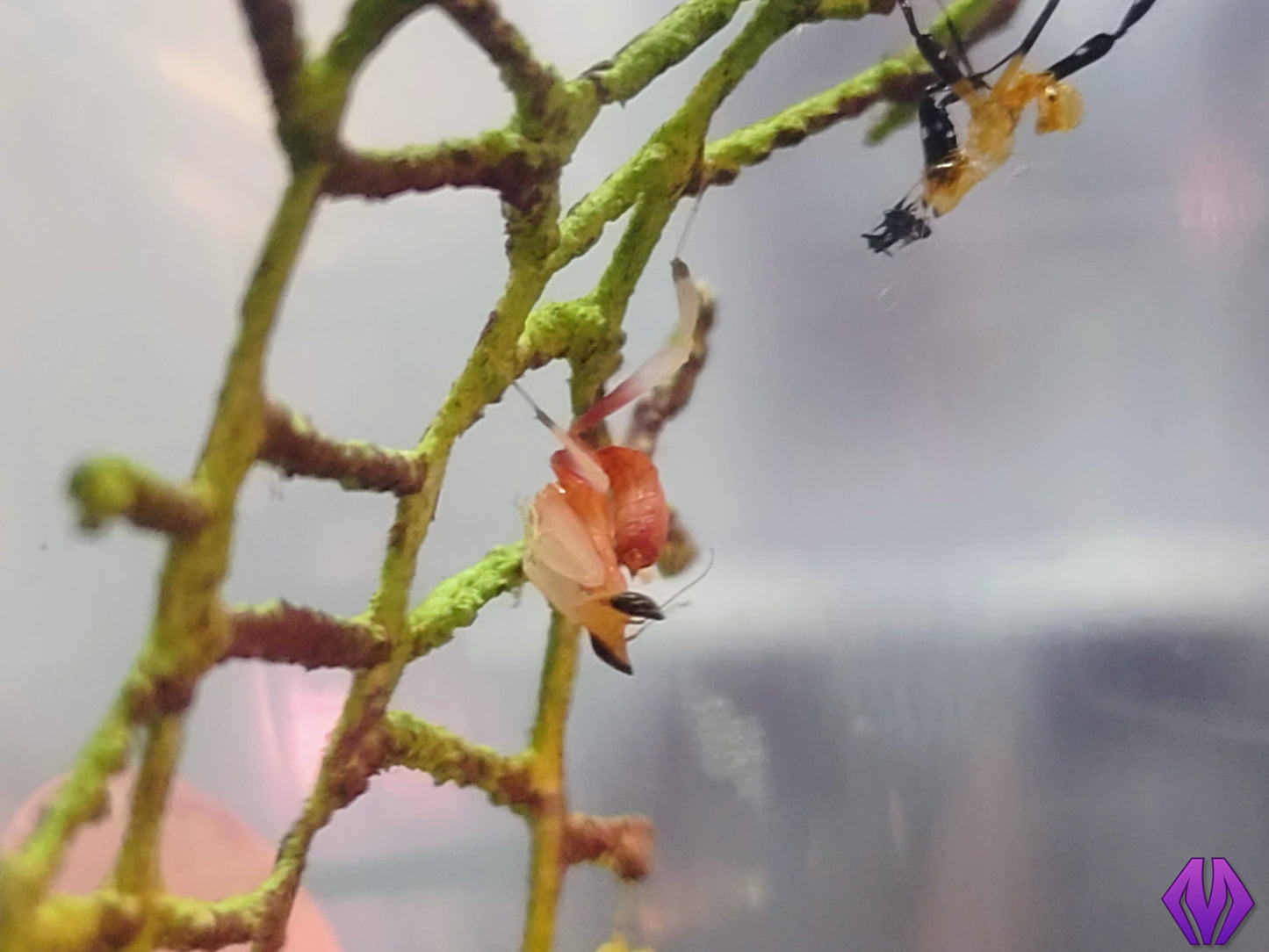 I bought my orchid mantis at the show in Taylor MI on 6/11. The enclosure she was in was included and had moss ribbon that she loved to hang from. Ophelia molted about 2 weeks after I brought her home, ate & drank well, and was always bright, alert, and healthy.
Sadly, 3 days ago she started acting abnormally. I reached out to Marshall Arachnids and they responded in less than 12 hours. The owner spent a lot of time on the phone with me, trying to figure out what was happening. He took his time, was very thorough, I never felt rushed, and he made sure I didn't have any additional questions before we hung up. He also welcomed me to reach out again if I needed to.
Unfortunately, Ophelia didn't make it (which was because of something I did, NOT Marshall). They really went above and beyond trying to help me.
They are an amazing shop and really care about their insects/arachnids.
I also bought a Regal Jumping Spider from them and he/she is doing very well.
I'll be getting a new Orchid Mantis from them soon.
Great
After choosing a arrival date they shiped it out the day before, arrived as a L4 female . They also included a realy nice enclosure for her. I named her tofu and I've had her for 10 days, she hasent had her first molt yet but I still put her into her bigger enclosure. I always have to take her out of her enclosure and but her on to my bed, then I release a fruit flie onto my bed and let her hunt it down. I do this twise every other day and it works fine. It loves fruit flies but can even eat 1/2 inch crickets. I was very carefull when feding her crickets tho as they could of hurt her. Anyways I recommend this 10/10