purplebox 6x6x9 HEXED vents
Regular price
Sale price
$49.99
Unit price
per
Sale
Sold out
The purplebox 6x6x9 "HEXED" is an exclusive acrylic enclosure design by Marshall Arachnids. This variation of the popular purplebox features 2mm ventilation slats in our signature hexagonal shape. We have increased the wall thickness of hexed models to 5mm.

This enclosure is ideal for jumping spiders, true spiders, tarantula spiderlings and whip and mantis nymphs up to 4"

**CAUTION** Anything 2mm or smaller (size of a Melanogaster hydei fruit fly) CAN fit thru the ventilation slats.

OPTIONAL: Add 5mm polyurethane "sticky feet" to your purplebox for $4.00. Adds traction preventing the enclosure from sliding when accessing and dampens vibration within the enclosure.

***NOTE***: Acrylic is a light weight, attractive, crystal clear material but scratches easily. Please advise that light cosmetic surface scratches are normal and occur from handling.

___________________________________

- FEATURES -

DIMENSIONS: 6" x 6" x 9"

FRAME: 5mm acrylic with Marshall Arachnids signature purple bottom.

ACCESS: Front opening, full length magnetic sliding door w/ large acrylic pull

VENTILATION: 2mm slats

SUBSTRATE DEPTH: 2.75"

WEIGHT: 2lb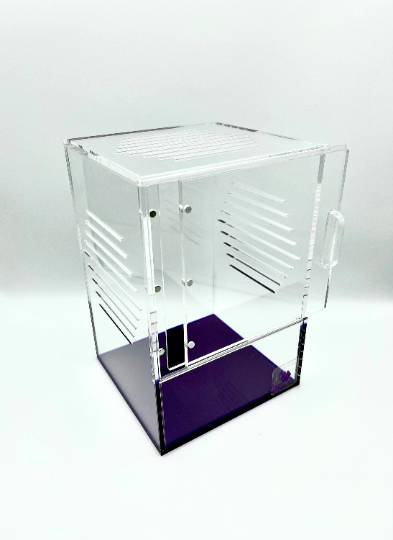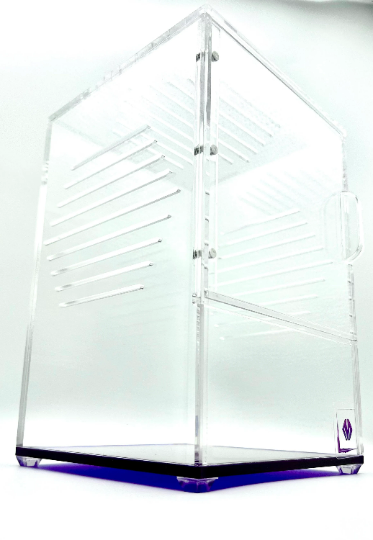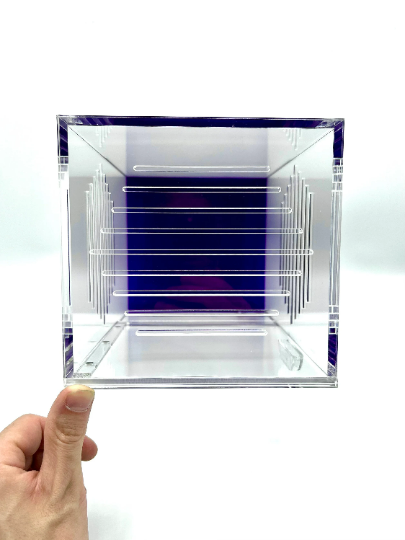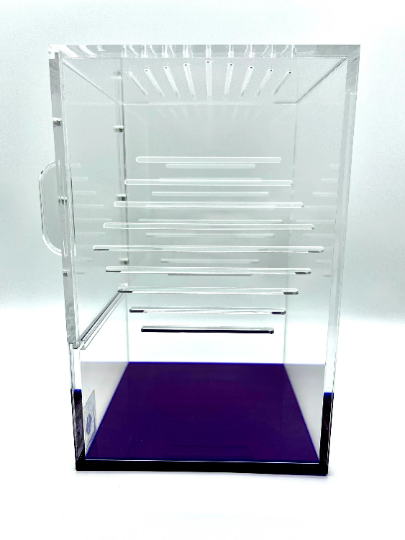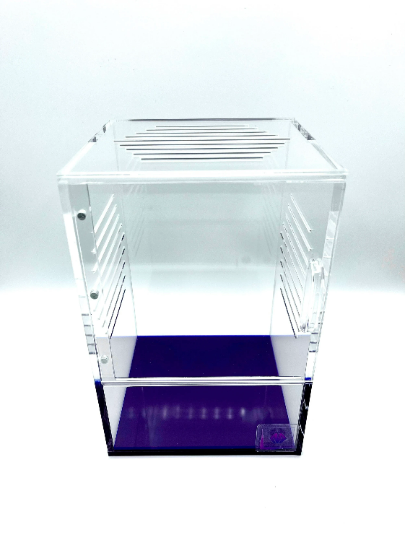 Purple perfection
I knew I would like my Poeclitheria in this enclosure. I just didn't realize how much my Poeclitheria was going to like it!
Marshall's arachnids has sturdy yet lightweight enclosures that I have come to adore! Having Multiple Sclerosis, it gives me the advantage and honor of caring for my tarantulas myself! This 6x6x9 has enough ventilation that I'm confident when I water the small plants in there- and it's not misplaced! Each time my t is getting both the oxygen AND ventilation it needs. Perfect balance. Thank you for such amazing products!
Great quality!
Perfect size and quality. Thick walls, smooth sliding door. Everything seems to be laser fitted. No gaps and everything looks refined and smooth. Great detail was put into making this enclosure. Super quality construction and materials, doesn't feel cheap or flimsy in any way and the sticky feet hold it perfectly still, won't budge.